A Rafter of Crankies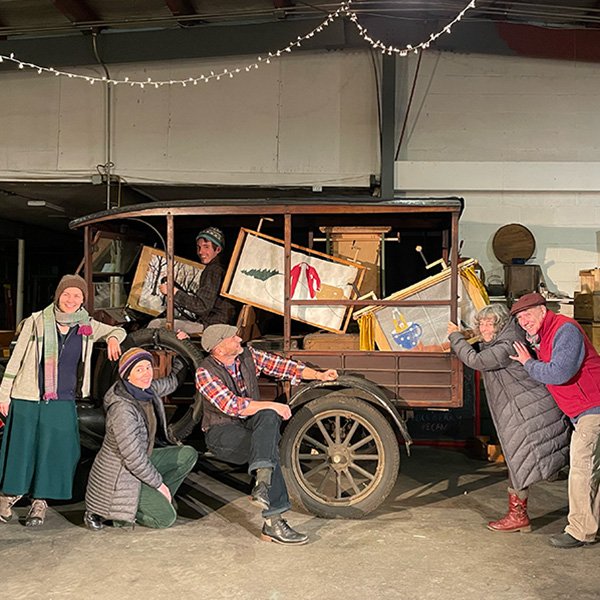 A Rafter of Crankies

About the show
The term "Crankie" is often credited to Peter Schumann, founder of Bread and Puppet, but the form goes back centuries. In Europe, in the Middle Ages, street singers often delivered ballads of murderous deeds with large panels that illustrated German Moritat, or morality songs (think of Mack the Knife, from the Kurt Weill/Bertolt Brecht musical, "Threepenny Opera"). The crankie's long illustrated scroll, wound onto two spools, also became a means of presenting travelogues and scientific panoramas in salons and meetings during the 19th century. They were then called " moving panoramas." The term "crankie" refers to the way that the spool handles are cranked, to move the panorama forward. Today, crankies are strongly associated with Appalachian music and tradition.
As Brendan Taaffe writes in Sandglass' new book, The Time Before the Glass Turns Over: "Let's start with this: crankies are a form of magic By this I mean to say that they are an antidote to this age of digital saturation that – by means of the mechanism being so readily apparent, of the simplicity of the machine, of the crinkle of the paper as it is wound from one crank to the other – grounds us in the real, in the shared breath of creating magic in a small room."
Turkeys, our traditional bird for the Thanksgiving meal, group in rafters, a collective noun akin to a gaggle of geese or a school of fish. When Eric looked at the roof of the big hall at Green Mountain Orchards, he immediately knew what the collective noun is for the little art form known as Crankies. Last year the annual crankie weekend moved to Thanksgiving weekend, to be part of the Putney Crafts Tour, and the venue moved to the orchard. The aroma of the apples adds yet another sensation to this seasonal performance!
Heating will run before and between shows. So the temperature in the building should be somewhere between outdoors and cozy. Bring layers! Coffee and baked snacks will be available by donation.
REFUND POLICY: Refunds may be requested for any reason 48 hours in advance of this event for which patrons have purchased a ticket or at any time if a ticket holder needs to cancel due to COVID.