Sandglass Theater thanks all of you for your support during our year end appeal
and in the many ways you are a part of the work we do.
We owe our success to the community in which we thrive.
May you all have a wonderful 2018!
Reserve your tickets now for ~
Sandglass Theater's Winter Sunshine Series welcome song.

Southern Vermont's favorite puppet theater event for young audiences offers a range of live puppet theater performances, workshops and school engagements for affordable prices.
Winter Sunshine provides a lively respite from the cold, a creative interlude between snow shoveling and wood schlepping, and the shine of laughter through the darkness of our Vermont winter months. Sandglass is headed into its 10th season of producing this family series with an expanded program to include schools and new audiences.
Public performances are on Saturdays at 11 AM and 2 PM at Sandglass Theater
Tickets are $9/ticket.  Shows are for ages 4 and up.  Reservations highly recommended: info@sandglasstheater.org or 802 387 4051.
This winter Sandglass is pleased to present
Punch and Judy on Ice
By Modern Times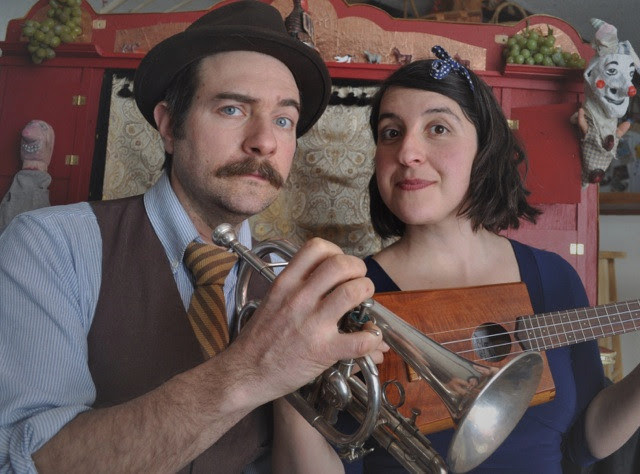 Friday, February 16th at 10 AM school residency
Saturday, February 17th public performances at 11 AM and 2 PM
"Punch and Judy On Ice" Even a cold winter doesn't slow down the world's most well preserved puppet character! In this ever-evolving saga by Modern Times Theater, Mr. Punch is trying to beat the winter blues. He dances with his wife Judy, subdues a crocodile, trains his dog Toby (who looks suspiciously like a skunk), and more! Live music (played on everything from the ukulele to the bicycle pump) accompanies his hilarious journey. This skillful performance brings a puppet classic to life with a contemporary vaudeville flair and a modern family-friendly sensibility. Hand puppets.
Modern Times Theater has been adapting and updating Punch and Judy shows for over a decade. Founders Rose Friedman and Justin Lander are a husband and wife duo, co-founders of Vermont Vaudeville, and alumni of the Bread and Puppet Theater. Parents themselves, they strive to present quality entertainment that the whole family can enjoy.
—————————————————————————————————————
Everybody Loves Pirates!
By Frogtown Mountain Puppeteers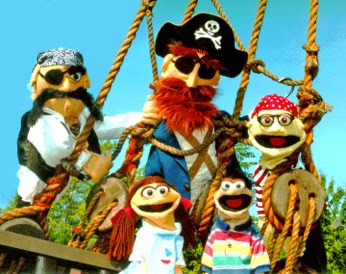 Friday, March 16th at 11 AM, school show at the Latchis Theater in Brattleboro
Friday, March 16th public workshop at 4:30 PM.  Location TBA
Saturday, March 17th two public performances at 11 AM and 2 PM at Sandglass Theater
Featuring 15 hand-crafted mouth and rod puppets, and an 8 foot paper-maché pirate ship.
Eight-year-old Lucy and her goofy pal Little Chucky are searching for buried treasure, but a gang of bumbling pirates keeps getting in the way!  The kids get some help from their new ocean-dwelling friends, including enthusiastic superhero Lobster Boy, his reluctant sidekick Crabby, and an overgrown sea monkey.
Frogtown Mountain Puppeteers is a puppetry troupe based in Bar Harbor, Maine, and comprised of three siblings- brothers Erik and Brian Torbeck and sister Robin (Torbeck) Erlandsen. Founded in 2000, Frogtown Mountain Puppeteers has performed at festivals, schools, libraries and theater in the United States and Canada. They write and create all the shows they perform and have received three Citations of Excellence from UNIMA-USA, the highest national award in puppetry.
—————————————————————————————————————
Ines Zeller Bass' final performance of Isidor's Cheek
By Sandglass Theater

Saturday, March 31st public performances at 11 AM and 2 PM
So begins the song, which begins the story, which begins the adventure: One day, something drives Isidor from out of his little grey existence. His cheek runs away, and Isidor must search around the world to find it again: a world of color and beauty, as well as loneliness and even danger.
"Isidor's Cheek" is performed on a revolving table filled with all the details of Isidor's miniature world: from his shabby grey house to a forest of apple trees, through an unfriendly city, across a sea of turtles and barracuda, into the smallest circus in the world. The table revolves to bring Isidor home again and to transform his house, his garden and indeed his whole outlook on life. Isidor himself is barely 5 and 1/2 inches high (14 cm), an appropriately little hero for a small story with a big heart.
Isidor's Cheek won a Citation of Excellence from UNIMA in 1999. An ideal performance for intimate rooms: audiences age 4-9 and their parents, grandparents, and great-grandparents.
—————————————————————————————————————
Punschi
By Sandglass Theater

February 9th Westminster School residency performance for Kindergarten and 1st grade from 12:15 to 1:05 followed by a performance for 2nd and 3rd grades from 1:25-2:15.
February 16th Westminster School residency workshop from 1:30-2:30.
March 15th Bellows Falls Middle School residency with performance and workshop
9:30-10:20 Punschi show, 10:30-11:20 Punschi show. These will take place in the library. 12:30- 1:30 Puppet building workshop in the classroom, 1:30-2:30 Puppet building workshop in the classroom.
Shoshana Bass and Jana Zeller of Sandglass Theater present a collection of delightful and compelling short puppet pieces in Punschi. Perfect for kids and adults alike, Punschi features hand puppets, a miniature circus, music, and lots of laughs!  An enchanting tradition of imaginative puppetry and entertainment! Performed by international touring artists Jana Zeller and Shoshana Bass.
These school residencies are possible with the generous support of the Wolf Kahn and Emily Mason Foundation.
---
                
Many thanks to the New England Foundation for the Arts and the Wolf Kahn and Emily Mason Foundation for their support of the Winter Sunshine Series for families.