Sandglass Theater fosters the development of the art of puppetry by offering workshops for children and adults in our community and beyond.  Workshops give participants techniques for building, animating and performing puppets as well as composing puppet pieces.  To book a workshop for your school, center or event please contact info@sandglasstheater.org.
Workshops at Dance the Yard in Martha's Vinyard
Shoshana Bass and Jana Zeller are currently in residency at the Dance the Yard in Martha's Vinyard teaching workshops for children and adults.  Children from the 4th grade public charter school are constructing puppets and learning basic manipulation techniques through a school program and the adults are creating and telling stories with puppets and looking at working with song, the actor/puppet relationship, and simultaneous scenes to explore what makes the puppet a special medium for evoking testimony.
photo by Kiqe Bosch
Eric Bass and Ines Zeller Bass are off to Scotland next week to teach a newly developed offering, Terrain – The Ground On Which A Puppet Lives.
This workshop addresses the questions of the environment of the puppet, how can it become an asset and how can you raise the stakes for your puppets by creating an interaction between the puppet and the terrain upon which it stands?
The workshops take place in Edinburgh at the Curious School of Puppetry and as part of the Manipulate Festival at Dance Base in Edinburgh on Saturday January 27 – Monday January 29 then at at the Norwich Puppet Theatre on Thursday February 1 – Friday February 2.
Summer Puppet Camp for Children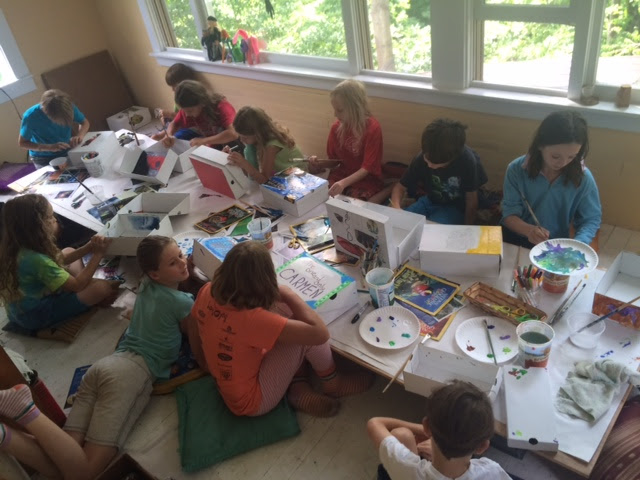 Puppet Camp with Jana Zeller takes place at Sandglass Theater from

July 23 – July 27

. Ages 9 and up. Each participant will create and learn how to animate a rod puppet, build sets and invent a show for performance at the end. Spaces are limited so reserve you spot by calling (802)387-4051 or  CLICK HERE
Summer Intensive Training in Puppetry
Sandglass Theater offers a two-week intensive workshop for adults in Puppet Theater this

August 5 – 18, 2018

. This program is for  puppeteers, teachers, actors, directors, designers and writers who want to expand and deepen their skill and understanding in the art of the puppet.  Applications are now open HERE