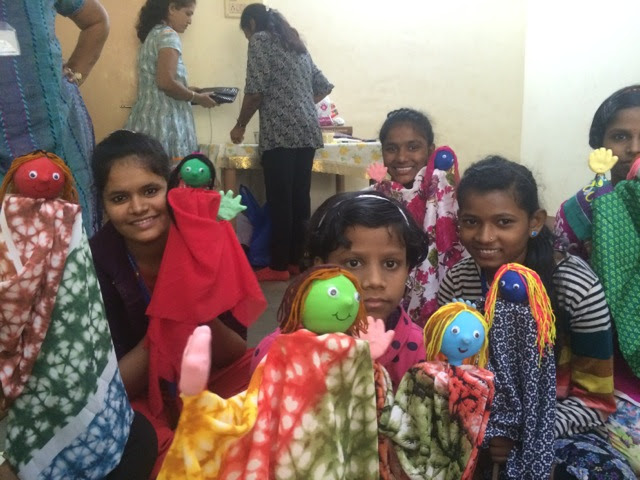 Puppets Without Borders
Please join Jana Zeller and Chris Yerlig in a slideshow and video presentation about their work with children in India, Monday Feb. 6 at 7pm at Next Stage Arts Project in Putney, VT.  Admission by donation.
Early this winter Sandglass Theater's Jana Zeller joined Magicians without Borders and traveled to Mumbai, India, to teach and perform puppetry at an art camp for orphaned boys and girls. This program provided some 120 children, ages 12 – 15, with the unique opportunity to study magic, mime, puppetry and juggling. Jana was honored to be the first puppeteer to be invited to participate in this project. She worked alongside magician, Tom Verner and local mime and clown, Chris Yerlig. After the art camp, the three traveled around Mumbai and Surat to perform for orphans, students in the slums, children struggling with cancer, and the children of people living off what they find in the landfill.

Jana Zeller of Sandglass Theater grew up in a family of internationally touring puppeteers and eventually began creating her own puppet work for adults which has been presented in the US, Canada, Mexico and Germany. For the past two years Jana has been touring a children's show with her sister Shoshana and has discovered her passion for performing for children. Joining the project in India has intensified her belief in bringing puppetry to people who cannot go to the theater and to creating work in a visual language that everyone can understand. She is delighted to practice an art form that transcends cultural boundaries and that can bring some joy to people who live in difficult circumstances.

Chris Yerlig is originally from England and began working as a street performer in France and Spain. As a mime and silent comedian he has no language barriers and has delighted audiences around the world for over 20 years, appearing in the African countries of Benin, Cameroon and Morocco, as well as Bangladesh, Canada, China, Curaçao, the Dominican Republic, El Salvador, France, Guatemala, Japan, Puerto Rico, Spain, Switzerland, the UK, and the USA. For the past few years he has dedicated most of his time to working in India and Haiti, bringing laughter and joy to children living in orphanages or experiencing hardship.