Under the masterful guidance of Sandglass co-founder Ines Zeller Bass and Sandglass company member Jana Zeller, participants will learn the basics of a customized rod puppet. The process will include modeling a head and hand, techniques for painting puppet faces, and a fabric body. From this foundational structure students will develop and invent their own unique puppet characters. Get your hands busy and your imagination fired up in this weekend long immersion into the art of building your own puppet.
Friday June 8 from 6 – 9 pm

Saturday June 9 from 9 am – 4 pm

Sunday June 10 from 9 am – 12 pm
Ines Zeller Bass, Instructor: Co-Founder of Sandglass Theater
and Sandglass Theater's children's programs. UNIMA Citation winner.
Jana Zeller, Instructor: Producer and Artist with Sandglass Theater.
Summer Intensive Training in Puppetry
Sandglass Theater is offering a two-week training intensive in puppet theater directed by co-founders Eric Bass and Ines Zeller Bass with assistant teachers Jana Zeller and Shoshana Bass. This program is offered to puppeteers, teachers, actors, directors, designers, writers and anyone who wants to deepen their skill and understanding in the art of the puppet.

The objective of this training program is to inspire participants to understand and to experience the puppet as a theatrical medium. Sandglass teaches an original method of animation developed over thirty years of workshops internationally.

The Sandglass Summer Intensive takes place at Sandglass Theater in beautiful Putney, Vermont from August 5th through 18th, 2018.  For more information CLICK HERE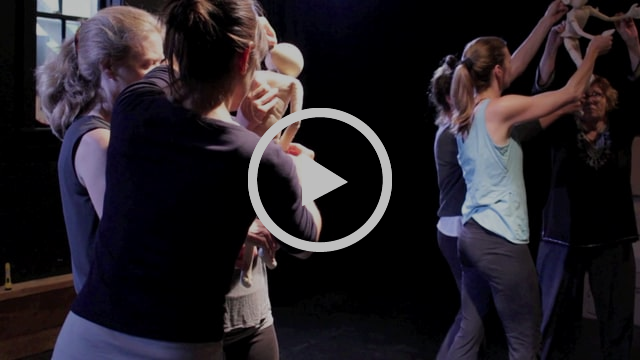 A glimps into the training                                                                   video by Kirk Murphy